Jereh's LNG fueling station, contributing to Shanxi green transportation development
In September, the first LNG fueling station on the No.108 national road of Qi county, Shanxi Province, ,began to work, providing LNG fuel for local vehicles and thereby facilitating environment-friendly transportation construction of China. It is noted that the LNG fueling equipment is manufactured by Jereh, a world leading company in providing integrated solutions of oilfield equipment and services for oil and gas drilling, well intervention, well completion, natural gas transportation, natural gas liquefaction, environmental control and EPC services.

In accordance with national standard, Jereh furthers its innovation work for LNG fueling station to meet needs of different customers and promotes standardization of fueling stations. The skid fueling station is equipped with submergible pumps, cryogenic pumps, vacuum pipelines, cryogenic valves, gasifier. By means of accurate metering, revealing and calculation of gas amount in fueling and reclaiming, as well as collection and control on various parameters, the LNG fueling station can achieve fueling amount controlling, metering setting and reliable operation of station control systems.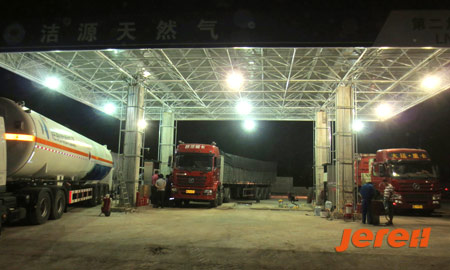 For meeting the increasing requirements for LNG and further perfecting the network of LNG fueling station in Shanxi, Jereh group is about to deliver other LNG fueling stations in the second half of 2013 and continues the cooperation with the Jieyuan natural gas company for reducing carbon emission, improving energy structure and fastening green transportation development in China.