Jereh Group Awarded "The Best Management Team in 2013"
On Nov. 29th, 2013, "Top List of Public Companies" noncommercial selection and awarding ceremony was held by National Business Daily. Jereh Group, with its steady growth, increasingly higher values and excellent management team, won the award of "the best management team" after being recognized as "the best growing public company" in 2012.

Excellent management team generally consisting of top talents in a company plays a decisive role in cost control, marketing, mergers and acquisitions. That's how the "top lists" defines Jereh team, the management are diligent, responsible, honest and trustful with high working efficiency; talented leaders are appraised by their personality; complete incentive and restrictive mechanism and mature management system are established; prospective and pioneering spirit enable more exploration; remarkable bushiness performance creates continual value for shareholders.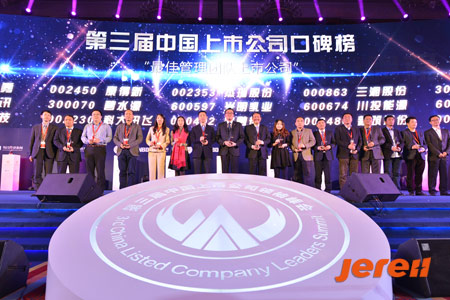 With such criterion, fast and steady developing of Jereh surely proves success of its management team. Since After tens of years' development and accumulation, Jereh group with there are more than 4300 employees and market value is nearly 4.5 billion yuanYuan. Jereh has developed into an internationalized comprehensive listed enterprise specialized in the manufacturing and services of oilfield drilling, well completion, natural gas transmission, liquefaction, and EPC.

By now, Jereh is world leading in the manufacturing of oilfield stimulation and completion equipment and is also excellent in fields of oil & gas engineering equipment, drilling rigs & workover rigs, ground equipment and downhole tools. In May, 2013, Jereh group started the LNG business and in October, Jereh Combined Energy Co.,Ltd was established for overall distribution of natural gas chain. There is no doubt that with strong momentum of unconventional oil & gas development, Jereh group will play a more important role in this growing industry.